Thanks to the Internet, job vacancies can be posted quickly on dozens of sites at once, but that also means more applications to sort through.
Although this has quantitative advantages for recruiters, it can also be detrimental to a good recruitment process. We have more choice among the candidates, but sometimes the number of applications is so high that it becomes difficult to find your way around.
So how do you go about pulling those applications and, above all, how can you make your life easier with a good recruitment software like Jobaffinity?
Identify the main criteria for choosing a candidate
The first step is to define the essential criteria for the job. What skills or characteristics are absolutely necessary? For example, if you're looking for a web developer, skills in HTML, CSS and JavaScript will be crucial. Clearly identify these criteria to facilitate subsequent sorting. We've written an article to guide you through how to designing an ad and we also talk about how to draw up a job description in this article.
This step can be taken even before the ads are published. So you'll have your system already set up.
Thanks to Jobaffinity and its partnership with Texkernel, it is possible to make cv parsing, i.e. extracting all the important data from CVs en masse to create candidate files that bring together all the information in a clear, precise and standardised way. We have written an article on the subject. What's next? All you have to do is carry out searches or set up filters for a quick initial sort.
Using a recruitment questionnaire
Again, to be done beforehand and attached to the job advert, draw up a recruitment questionnaire, which will give you an immediate score for the application based on the criteria you established in the previous point.
We explain in detail how to create a good recruitment questionnaire directly in Jobaffinity so that candidates can answer it while they are applying.
This means you can sort directly by score, immediately ruling out profiles that don't meet the basic requirements.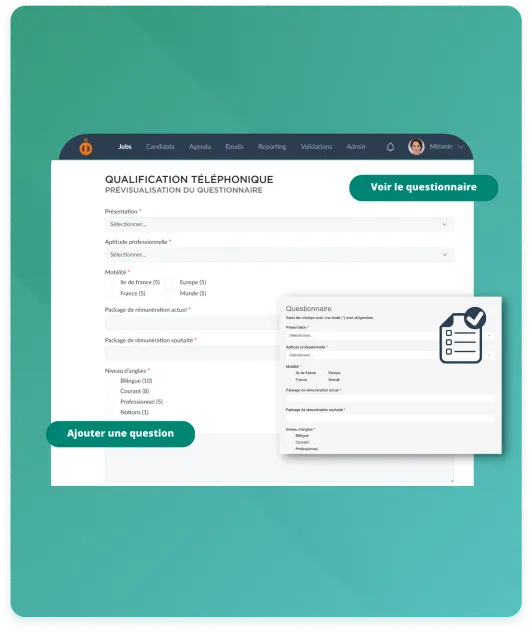 Reject initial applications with a single click
Your time is precious, and some applications won't do, and you can tell that at a glance. Whether by by viewing the candidate's CV (which you can do in Jobaffinity simply by hovering your mouse over it), via questionnaire notes or various search filters.
But taking the time to reply to all these applicants, to tell them that they have not been selected, is a repetitive task, sometimes morally painful, and above all does not require any particular skill.
We have therefore implemented the "one-click rejection" feature in Jobaffinity; One click on the application and it will be archived, the candidate will leave the pool you have, and an email will be automatically sent to inform him or her that he or she has not been selected.
You can now concentrate on the more interesting part of your job: studying the applications that interest you.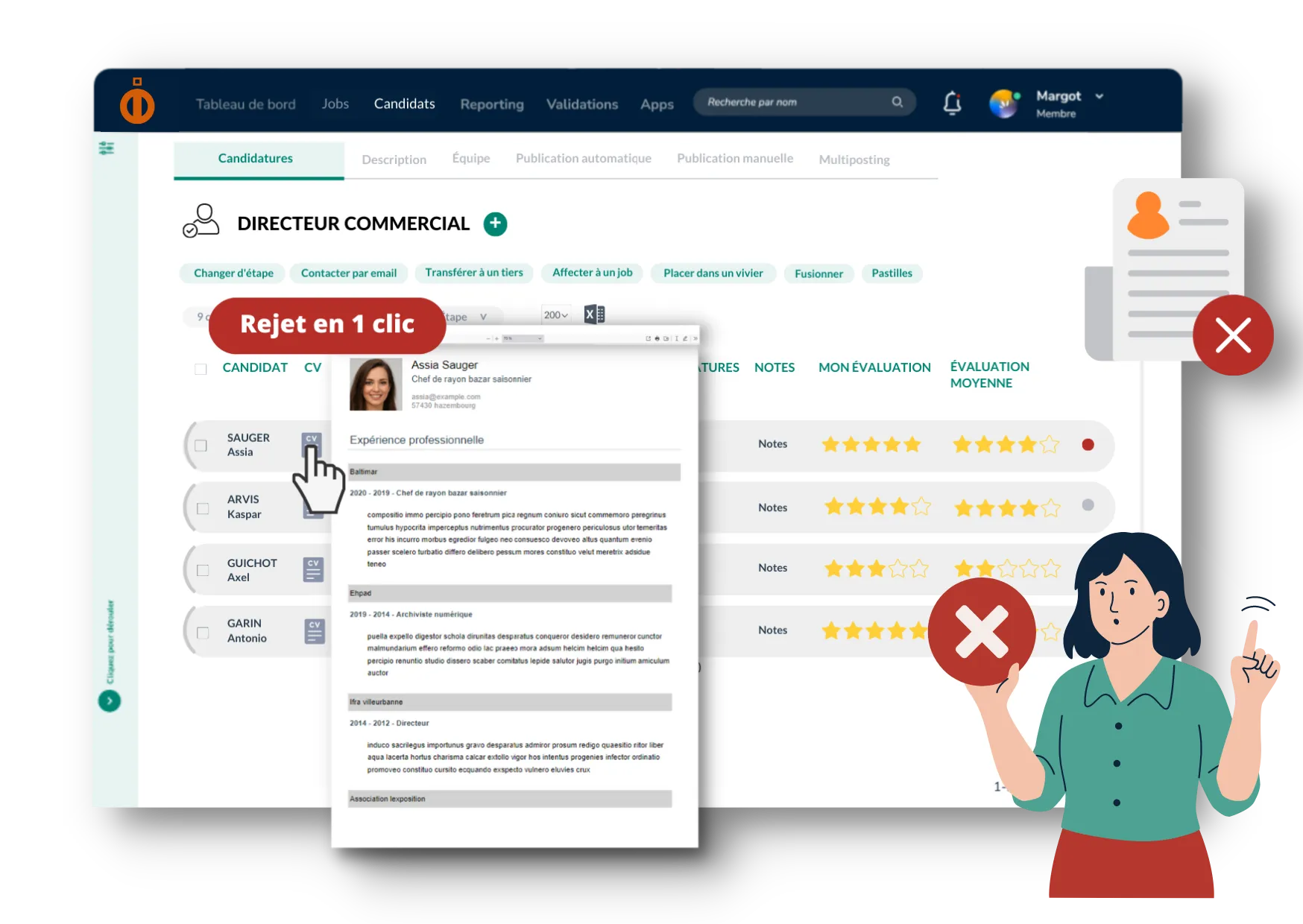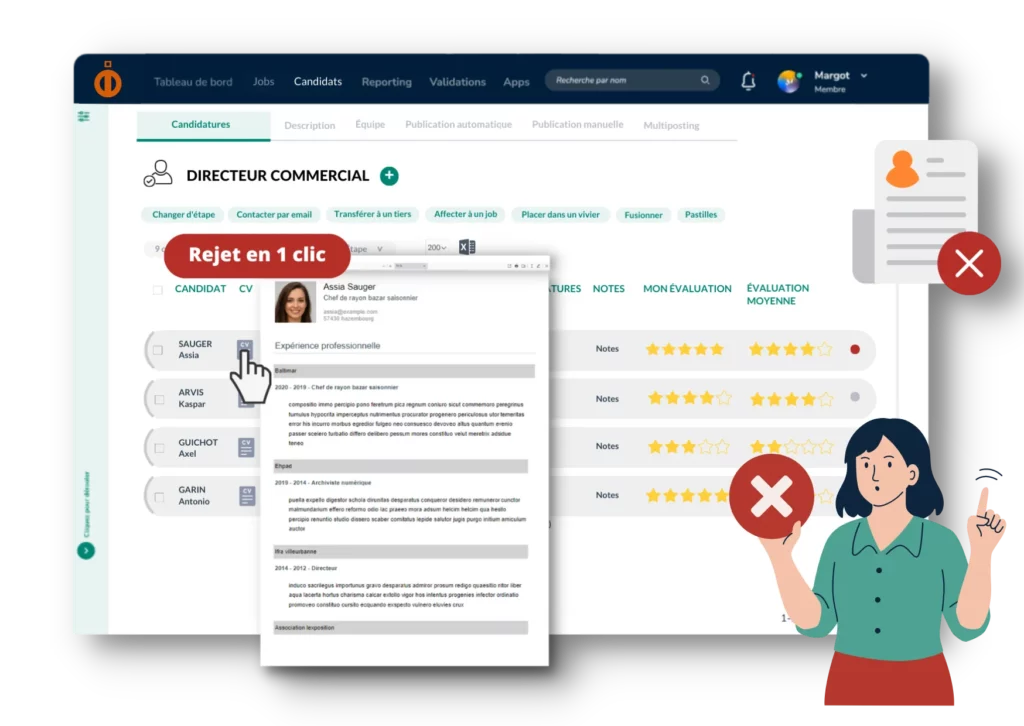 Analyse shortlisted applications in detail
Once you have reduced the number of applications, it's time to analyse the shortlisted profiles in detail. Review their experience, skills and achievements. Identify those who stand out and seem most promising for the job. You can also take into account other criteria, such as motivation or corporate culture, to refine your selection.
You can use numerous criteria in Jobaffinity, such as minimum years of experience, various keywords, job names or even its geolocation.
You can go even further with the filters if you have used CV parsing.
After this second stage, you can reject applications again with a single click, or place the profiles in your various variety of candidates if you think they might be suitable for other positions.
Now that you have a shortlist, why not introduce the candidate profiles to their future managers or colleagues?
Ask future managers or colleagues for their opinion on candidates
After that, these are the people who can best tell you whether the profile matches the reality of the job and their general opinion. You're a recruiter, but you don't know everything there is to know about the myriad skills, certifications, permits, training courses or schools for all the positions in your company.
The managers and future team members of the job in question have this expertise in their specific sector.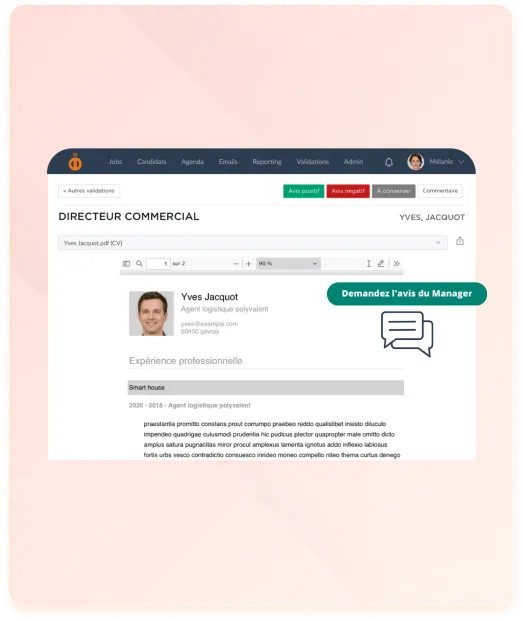 Directly from the Jobaffinity recruitment software, you can request a manager's opinion on a particular application. The people you ask for their opinion don't need to have an account on Jobaffinity, they will receive an email with the candidate's profile, which they can rate and comment on. Everything will be directly visible in your application management dashboard.
That should enable you to select the leading pack! You can reject rejected applications, again with just one click, and move on to scheduling interviews.
Finally, going for job interviews
After all, that's the most enjoyable part of recruitment: meeting people and talking to them. So that you can concentrate specifically on this aspect, we have created Jobaffinity, to help you get the less interesting tasks done as quickly as possible.
Directly from your application, you'll be able to talk to candidates (by email, text message, Whatsapp, etc.) and set up face-to-face or video meetings.
The application will synchronise with your email and calendar system, so everything runs smoothly.
With high-performance recruitment software like Jobaffinity, you can sort through applications more easily and more quickly. Eliminating unsatisfactory applications with a single click will save you precious time, not least because you'll be solving the all-too-common problem of candidates never hearing back from you.
By defining your selection criteria and letting the tool do the initial work, you can concentrate on analysing the most relevant profiles and organising interviews with the most promising candidates.
So, are you ready to simplify your recruitment process? Ask for a demo!