A resume library is a collection of resumes that companies can use to help them in the recruitment process. It makes it easier for employers to find candidates that match the job requirements.
A well-managed CV library saves time and effort when searching for new employees, as it eliminates many of the manual steps associated with traditional recruitment methods, it is an indispensable tool for the modern recruiter.
Let's take a closer look at how a good CV database can help you and how you can build one with our Jobaffinity recruitment software.
Let's start with the basics: a definition.
What is a CV library? Definition
A resume database (or candidate pool) is a collection of resumes or profiles that recruiters can browse to quickly and easily find qualified candidates for open positions. It contains detailed information about each candidate, such as qualifications, experience and other relevant data.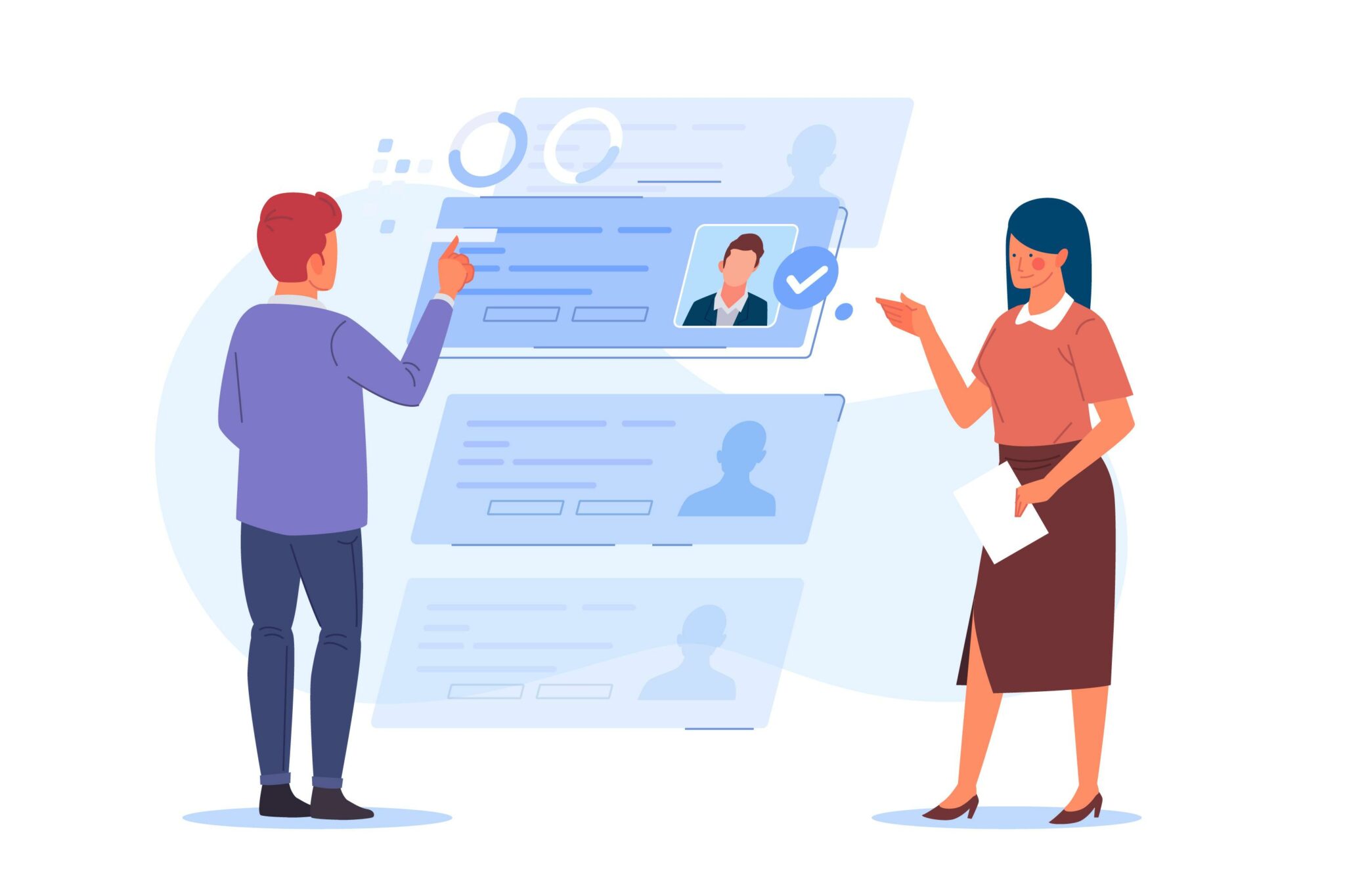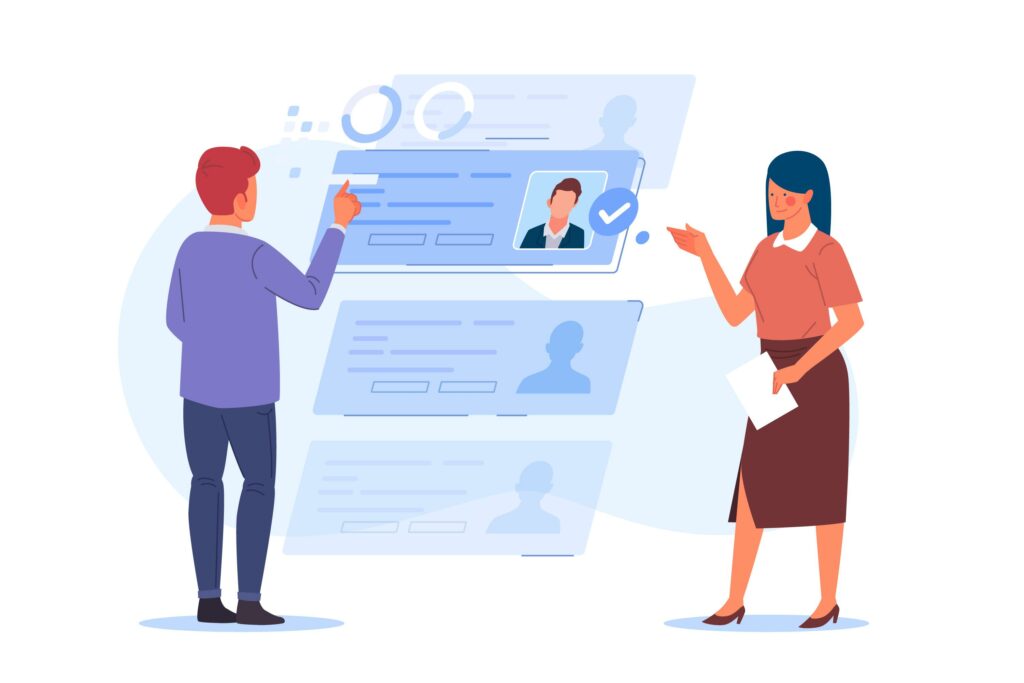 Benefits of a Resume Library for Recruiting Companies
An up-to-date resume database allows recruiting teams to quickly and accurately locate the best candidates for open positions. It also makes it easier to compare different candidates, making the hiring process faster and more efficient.
Resume libraries are designed to speed up the recruiting process, they often avoid sourcing and recruiters no longer have to review hundreds of unqualified applications. They can easily filter through the data to find people with the right skills and experience for their needs, saving a lot of time and effort.
Many people looking for job opportunities use CV templates to create a solid CV and send it to a range of suitable companies in the hope of securing a position either now or in the future. So, you might already have a wide range of CVs that can make up part of a CV library. 
A CV library provides access to a vast pool of quality candidates
Through your past recruitments, by browsing social networks, by receiving unsolicited applications or by knowing that some employees want to change position, you potentially have at your disposal dozens, even hundreds of CVs and profiles.
But have they been processed, identified, sorted and filed? Perhaps you have a folder somewhere where you have stored these applications, an e-mail archive box, or a paper file that must be… somewhere around here? No doubt?
A digital CV library allows you to have quick and easy access to all the profiles you might have sourced in the past.
A resume library allows you to target passive candidates
According to LinkedIn, 70% of the global workforce is made up of passive profiles, i.e. people who are already employed or not actively looking for a job.
If these people, often proven talent, don't particularly look at job boards, how else can you reach them other than with a headhunter? Well, if they have applied for a job with you, or if you have spotted their profile on social networks to import them into your CV library, you only have to make a few clicks.
We know: the case of a person staying with the same company for many years has become a rare occurrence and no longer a general rule. Many excellent candidates are working for other companies, are ready to leave for a different or more interesting position, but have not yet made the move. This is the principle of poaching an employee, and it's very common.
Your contact could be all they need to make up their mind.
Automated selection process
The objective of a CV database is more than just to store data, it is to provide the recruiter with a real search engine that allows him to quickly identify and select the most appropriate candidates.
Through cross-searching, semantic searches or automatic data extraction (CV parsing) from the documents sent by the candidates, you will be able to extract in a few clicks the profiles that will correspond to the positions you are looking to fill.
Using Jobaffinity's ATS, you can ensure that only relevant resumes are displayed in your database by defining filters such as skills, location, education level, distance to work, results of recruitment questionnaires, etc. Our recruiting software is compatible with TextKernel CVparsing which automatically extracts information from the CVs sent by the candidates. This helps recruiters narrow down their selection to the most suitable candidates without wasting time on those who do not match the job requirements.
Increased efficiency of the hiring process
A well-designed and structured CV database allows you to quickly access the best candidates for a given position. With just a few clicks, you will be able to determine whether you need to publish a job offer, multiply it on several job boards or whether you should start by searching for the rare pearl in the range of profiles that are already available to you.
This means several potential interviews at your fingertips without making a job ad, without publishing it, without sorting and analyzing all the applications (sometimes far-fetched or irrelevant, let's not lie).
Reducing the length of the hiring process also means reducing the dropout rate. Recruit better and recruit faster with a good CV library.
Improving the candidate experience
A resume library also helps improve the candidate experience. The resumes of people who have already applied for a job with you (or as a spontaneous application) will reappear in your database when you search your resume database using keywords or filters that match their profile.
These candidates will say to themselves "here is a company that treats applications correctly: my profile must interest them, they took the time to contact me X time later". This is an excellent way to get a highly motivated candidate, who will have a better image of your company. Once again, you will be able to reduce the dropout rate.
What's more, candidates won't feel like they're starting from scratch (you already have their resume, profile, potentially cover letter, or notes from interviews and exchanges that have already taken place). It will be easier for them to get in touch than if they had to go through several recruitment processes. This small detail can help put them at ease and ultimately make them want to join your team.
Reduce recruitment costs with a resume library
You guessed it, if an effective resume database allows you to hire faster and with less action, your company will save money. By having a good stock of talented professionals in your resume library, it will be easier and less expensive to fill positions quickly with in-house resources than by going through the entire recruiting process again.
Ensure CV storage is RGPD compliant
By using reliable recruitment software, such as Jobaffinity's ATS, you can be assured that all data stored in your resume database will be kept secure and private, in compliance with the GDPR. Each user will only be able to access the data they need for their job, making your resume database secure and legally compliant.
You will also have an option to relaunch the data retention request once the legal deadline has passed; all in a few clicks.
Jobaffinity to facilitate the creation of your CV database
Now that you have the theory, how do you use our Jobaffinity recruitment software to easily build your resume library?
An ATS specialized in recruitment
Jobaffinity will allow you to efficiently manage the entire recruitment process. From creating job offers and publishing them on job boards, to tracking candidates, rating them and working with recruiters or human resources professionals.
The feature that interests us in this article is the ability to easily create candidate pools. You can assign profiles from different sources (job boards, applications, professional networks such as LinkedIn, etc.) to create your own CV library, allowing you to quickly access the best candidates for a given position.
How to create your own resume libraries with Jobaffinity
We hope you are not expecting a long and detailed tutorial, because it is literally just a click away.
The "longest" part is to create a category, you can name it whatever you want: by job type, by department, by location… It's up to you. Then, as soon as you are on a profile in your interface, you just have to click on "add to pool" and select the pool in which to put the profile.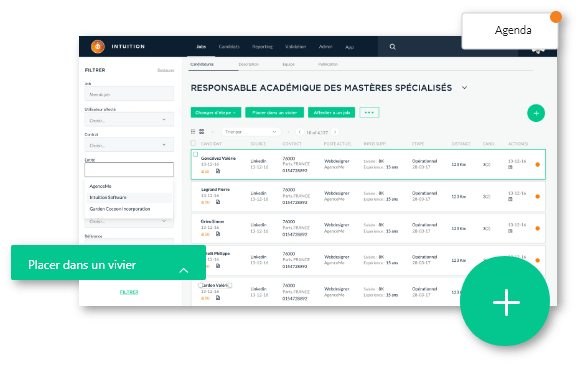 You will then be able to search by keywords or by filter to find interesting profiles, see their CVs by simply passing the mouse over them, send a message, book an appointment, schedule a call, ask a college for advice… In short, all the power of our recruitment software.
Conclusion
Creating a CV database with Jobaffinity is a simple and effective way to build your own library of potential candidates. It will help you save time and money in the recruitment process, but it also ensures that all stored data is secure and compliant with RGPD regulations.
Ask our team for a demo and see how, thanks to an intuitive interface, creating candidate pools has never been easier.
Interested? Request a demo!