Welcome to the world of recruitment 2.0 with Intuition Software and our leading recruitment software, Jobaffinity! We're excited to announce the latest feature that will transform the way you write job ads and communicate with candidates : GPT Chat Support.
Generative AI at the service of recruitment, that's what we're offering you today with this new technological breakthrough. But what exactly is generative AI? It is an artificial intelligence capable of creating content autonomously, drawing on vast data sets to produce realistic and coherent texts.
Thanks to Jobaffinity's integrated ChatGPT Support, recruiters can now say goodbye to long hours spent writing job adverts and email templates. This revolutionary technology automates and simplifies the entire creative process, while maintaining a professional, personalised tone and, of course, leaving you in final control.
If you are already a Jobaffinity customer and already have a Texkernel subscription in our tool (intended for cv parsing), you already have the option to activate. If not, don't hesitate to contact support with the subject "IA pack request" to obtain the option!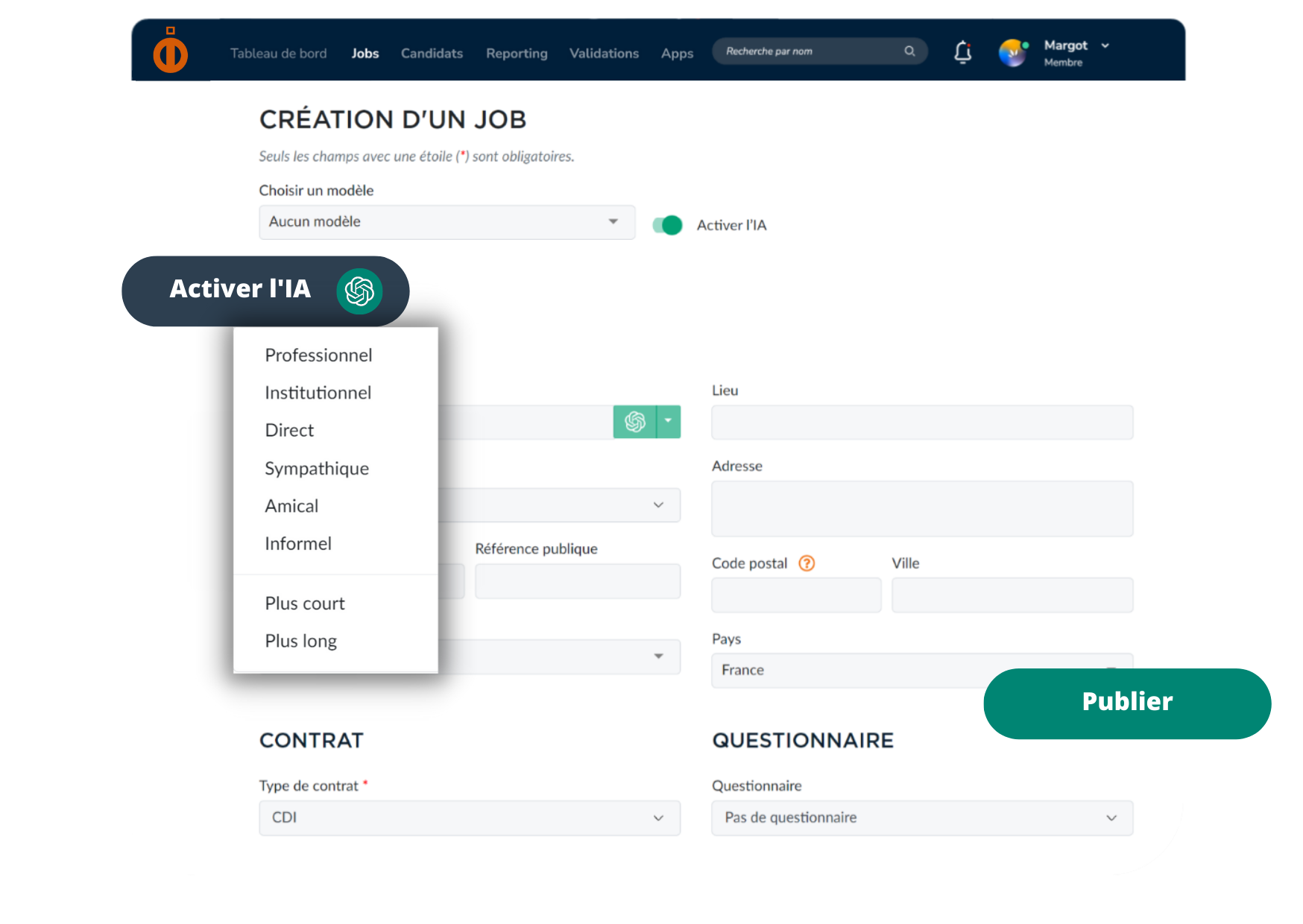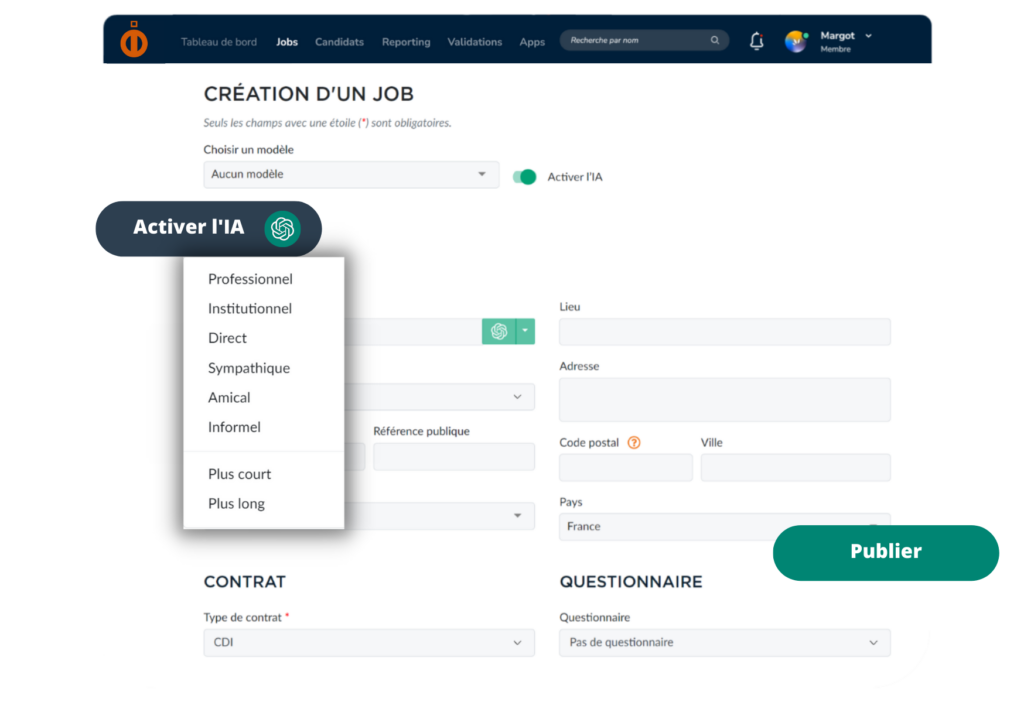 Generative AI: a powerful tool for recruiters
Imagine being able to write a attractive and complete job ad in just a few minutes, without compromising the quality of the message you want to convey. Generative AI makes it possible ! Jobaffinity uses cutting-edge technology to provide instant assistance to recruiters, allowing them to focus on what's important: finding the right candidate.
But that's not all ! ChatGPT Assistance goes far beyond writing ads. You'll also be able to create detailed job descriptions, customize email templates for different stages of the recruitment process, and even adapt the tone of the message to suit your corporate culture.
If, for example, you need to create a job description of a job you know little about, you can ask Jobaffinity to define all the necessary requirements for the key skills needed. All you have to do is ask your colleagues in the department in question, or your managers, if this form matches your expectations. You'll save an incredible amount of time.
Rewriting or optimising an advert or using AI
Thanks to Jobaffinity's ChatGPT, rewriting or optimising a job advert becomes child's play. Generative AI is at the service of recruiters, offering instant suggestions and improvements to the advertisements they write.
You can simply copy and paste your existing text into Jobaffinity's intuitive interface (or ask it for a new one), and in just a few clicks, the AI will analyse the content and suggest relevant changes depending on the tone you're looking for, the level of detail, or whether you want to make your ad anonymous.
Whether you want to add specific details about the responsibilities of the job, highlight the benefits offered by the company, or adjust the tone of the message to better match your brand image, ChatGPT Assistance adapts to your needs.
As a result, your job ads will be more attractive, better structured and optimised to attract the best candidates. No more hours spent searching for the right word or fine-tuning the content, Jobaffinity's generative AI will help you write impactful adverts, saving you precious time so you can concentrate on recruiting the talent that will make all the difference.
If you haven't watched it yet, we have a webinar on new ways of communicating with candidates where Jobaffinity's functionality was demonstrated (from 14:55).
Save time and recruit more efficiently
Time is money, they say. And in the world of recruitment, this has never been truer. Thanks to Jobaffinity's ChatGPT Support, recruiters can write adverts and email templates in the blink of an eye, freeing up their time for other crucial tasks in the recruitment process, such as interacting with candidates.
Generative AI also offers an invaluable advantage: the perfect match between the job requirements and the language used in the advert. Potential candidates are therefore better informed and can submit more suitable applications, which speeds up the selection process and enhances the quality of the candidates recruited.
You can also turn to generative AI to make up for the lack of inspiration in your automatic e-mail templates and, even if it seems counter-intuitive, "add some human touch" to automatic e-mail responses. If you can use just a few clicks and two or three words to set up specific email templates for advertisements or particular situations, the candidate experience will be all the more pleasant.
Data security and confidentiality
At Intuition Software, we are very aware of the importance of data security and confidentiality in the recruitment process. You can count on our firm commitment to protecting your sensitive information and ensuring that your data is processed securely and in compliance with the RGPD.
ChatGPT Support in Jobaffinity works transparently, without storing sensitive data. So you can use this feature with confidence, knowing that your information and that of your candidates is in safe hands, on servers in France.
Boost recruitment with AI !
With Jobaffinity's ChatGPT Support, Intuition Software pushes the boundaries of traditional recruitment and delivers a faster, smarter and more efficient recruitment experience than ever before. Let generative AI technology transform the way you write job ads and communicate with your candidates.
Stop wasting time creating repetitive, standardised content. Opt for innovation with Jobaffinity and discover how ChatGPT can change the game in your recruitment process.
So, are you ready to take the generative AI plunge with Intuition Software and Jobaffinity? Don't wait any longer and try out this new feature that is revolutionising the world of recruitment today. The best recruitment team is you, assisted by artificial intelligence in Jobaffinity !
And, we're not saying any more at the moment but you haven't finished hearing about AI in recruitment…