Recruitment is undergoing many changes in 2021. First of all, they are technical because recruitment tools are not immune to digital transformation. They are also social because candidates' expectations have changed. With the help of Véronique Philippe, director of RELAIS-ASSUR, a firm specialized in the recruitment of technical and/or commercial profiles for General Agents and Insurance Brokers, we draw up in this article the main changes that must hold your attention as a recruiter.
Recruitment: highlight the points that are important to the candidate
Today, to seduce your candidate, you must make them want to apply with an ad that will make a difference! How can you do this?
Emphasize the challenges to be taken up, the candidate's prospects for development within the company and above all the opportunity for him to extend his skills;
Enhance the value of your company's project (vision, impact, raison d'être…);
Highlight the work environment in which the candidate will evolve. Candidates' expectations are high in this area.
Véronique Philippe's advice to create a striking advertisement: "In our business, the descriptions of the missions entrusted are often the same according to the targeted position. It is the work environment that will make the difference from one ad to another. The work environment includes the size of the team, the work atmosphere, the schedules, the possibility of working from home a certain number of days a week, etc. Candidates have their own criteria for finding the right position. The work environment is now very important. We have to take this into account when writing the advertisement. Our clients are freelancers with their own corporate culture. I advise you to value it from the moment you advertise to attract candidates who will recognize themselves in it.
Application processing: get a head start in your recruitments thanks to digital tools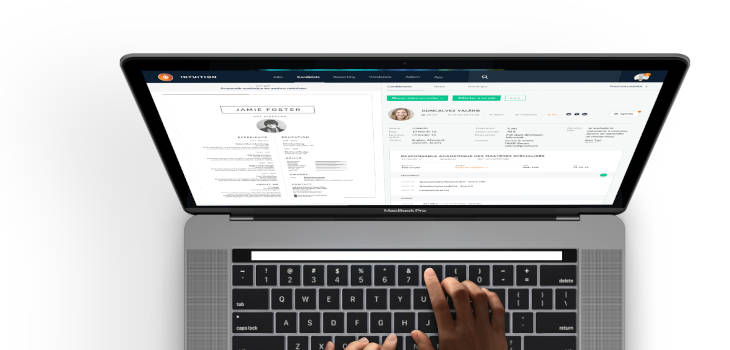 In order to be the first to contact the best candidates, you must have a fast and efficient processing of applications while being in accordance with the rules (RGPD.) Don't waste any more time opening each email and each CV manually. The CVs received are automatically stored in the software and they are immediately displayed in your account thanks to an ATS solution like Jobaffinity. You can review each CV and search by keywords or geographical areas. For some recruiters, the distance between home and work is an important factor because it is often the first cause of absenteeism.
With a digital application processing tool, you have the possibility of setting up data to select candidates. Each client can customize their filter according to their priorities and access the most relevant applications. The search is made easier because the data is automatically cross-referenced. You save precious time in contacting candidates before your competitors do.
Véronique Philippe has experienced this: "Since I've been using Intuition Software's solution, I save a lot of time in processing applications. In particular, the tool allows me to get in touch directly with the candidate via his or her profile. I can also communicate with the employees and the client on the candidate form. »
Retain your candidates over the long term
We advise you to keep the applications received even if they do not correspond to the position you are looking for. The constitution of a CV database is essential to facilitate your future recruitments. It allows you to build up a pool of applications with people who are already interested in your company. As soon as applications are received, they are stored in a CV database in agreement with the RGPD if you use an ATS tool like ours. In this way, you can distinguish those that are new, in progress or have already received a negative response. You can search for candidates by keywords like on a search engine.
Véronique Philippe adds: "Today, our main challenge is to build candidate loyalty. We follow them over time, even if they have not been retained by one of our clients. Our objective is to build their loyalty so that we can offer them a new opportunity later on. Indeed, people change jobs more easily than before. If something doesn't suit them, they leave quite easily.
This volatility of candidates is a bad thing for the long-term survival of a team, but it is also a source of opportunity to attract new candidates.
The quality of the integration within the team and of the local management will then have to make the difference with the candidate's previous experiences. »
Social networks: build qualified network
Social networks and job boards are where recruiters find candidates today. In order to use the power of these tools, we recommend that you build a strong and qualified network with the candidates you are targeting.
To find them, you can search directly on Linkedin by keywords but also connect with candidates who send you their CVs.
Véronique Philippe's advice: "On Linkedin, we have a dedicated network of more than 20,000 contacts in the local insurance market. Over time, I've been able to build a highly targeted network. This allows us to be identified as specialists in this market by clients and candidates alike. I also use job boards such as Indeed, Météojobs, Pôle Emploi and Région job to advertise and find candidates. »
Video interviews: a practice that will become established in the long term for recruiting
Video interviews have become widespread since the beginning of the health crisis. This recruitment practice is likely to continue beyond the crisis. Indeed, companies are recruiting online today because they are forced to do so. However, they are pleasantly surprised because they finally meet little loss compared to their usual process.
For Véronique Philippe: "We receive all candidates by videoconference to interview them. However, this is not a new discovery for our firm because we have clients all over France and we have been a fan of video interviews since our creation. Video conferencing tells us more about the candidate than a face-to-face interview. Indeed, the candidate is more relaxed at home and more natural. We discover them with more authenticity in their environment. Videoconferencing is indeed more intrusive. During a face-to-face physical exchange, relationships can be distorted. A distance is created between the recruiter and the candidate. The latter is more stressed. The principle of videoconferencing saves everyone time. It is a means to be maintained beyond the COVID crisis. In addition, our end clients meet them physically and can therefore also assess the candidate's ability to adapt to a more protocol-based exchange. »
An acceleration of the digitization of recruitment in 2021
In 2021 the digitalization of recruitment will continue to respond to the current health crisis and to improve your recruitment process.
Your role as a recruiter is to strengthen this process to enable your company to pursue its recruitment in the most fluid way possible.
Want to go further?
Discover Jobaffinity, the ATS that adapts to your business to help you centralize and optimize your recruitment processes in 2021.