In an increasingly competitive job market, employee retention is a major issue for companies. Recruiting is a costly and time-consuming task, so it is often better to retain existing employees than to look for new talent.
This is where internal mobility comes in. Internal mobility allows employees to grow within the company, whether in terms of responsibilities, salary or position. Elle est souvent considérée comme une alternative à l'augmentation salariale pour retenir les employés.It is often seen as an alternative to salary increases to retain employees.
Let's take a look at the benefits of internal mobility for both the employees and the company.
Employee retention to avoid "talent drain"
Talent drain is a widespread problem in companies. Employees leave their jobs to find better opportunities elsewhere, which can have a negative impact on productivity and business performance.
According to a study conducted by the Mercer consulting firm, approximately 30% of employees leave their positions each year, with an estimated average replacement cost of 50% of the annual salary of the vacant position, and that's a low average.
Companies need to take steps to retain employees and avoid talent drain. One way to do this is to offer internal mobility to employees so they can explore different areas and learn new skills while remaining with the organization.
This allows employees to develop their careers and the organization to invest in its own people. The benefit of this approach is that it helps companies reduce the costs associated with recruiting and training new employees.
The talent drain: a potential domino effect
The additional side effect that may not be visible is the impact on other employees: losing a colleague with whom you get along very well, and who seems to be taking advantage of a great opportunity by leaving the company, is a combination that will often lead to making the same decisions to look elsewhere (or even to follow the person in question if possible)
An employee is not just a work force, but a human asset to the company. According to a study by Office Vibe, 70% of employees say that having a friend at work is the most important element for a happy work life.
It's also important for companies to invest in quality of work life (QWL) to improve the employee experience and foster talent retention. QWL includes a variety of programs such as flexible working hours, career advancement opportunities, social and athletic activities, and access to psychological or financial assistance. These programs can help improve employee satisfaction and well-being, which can lead to better talent retention.
While talent drain will not be solved with a good internal mobility solution alone, it remains a valuable tool for limiting the damage.
The benefits of internal mobility for employees
Internal mobility can offer many advantages for employees, and is an element that should not be neglected within companies.
The feeling of professional and personal evolution
Diversification of skills and tasks
Change of team (you don't always get along with your colleagues)
Geographic change
Increase in compensation or benefits
New perspectives of evolution
An employee who has been working in the same department of the company for years may feel as though they are stagnating in their career. 1 in 3 employees cite boredom as the main reason for leaving their job.
On the other hand, if they have the opportunity to develop new skills or hone existing ones through internal mobility, they will have the opportunity to work on different projects and have a real sense of evolution.
This diversification can offer a new professional perspective and career development opportunities.
Internal mobility as a form of promotion
Internal mobility can provide opportunities for promotion. When an employee is looking for new career opportunities, one of the first options is to look for a job with another company.
But if the company they work for offers an internal mobility program, the employee can have opportunities for career growth within the company. This is less stressful, avoids the whole job search part and will allow for a much faster process.
This can encourage the employee's commitment to the company and increase their motivation to work for the company long term. Especially if they like the culture of the company and its team, it's a much more attractive (and less intimidating) choice than leaving everything and hoping the grass is greener on the other side of the fence.
Improve employee engagement and satisfaction
Internal mobility can improve employee satisfaction and commitment.
Involving employees in different projects and departments can strengthen their attachment to the company, allowing them to renew themselves, form new ties with new colleagues and feel renewed.
They are then more likely to feel valued for their work and to be committed to the company, its processes and its development projects. According to a study conducted by ADP Research Institute, 76% of workers say that employee engagement and involvement are important elements of their job satisfaction.
The benefits of internal mobility for the company
Internal mobility not only has benefits for the employees, but can also offer benefits for the company. First, it can reduce recruitment costs. It is estimated that the cost of external recruitment is approximately 6 months of the annual salary of the position being filled. In comparison, internal hiring costs less because employees are already trained and know the company and its culture.
The other benefit is more human and moral: internal mobility can help strengthen the company culture and sense of belonging. Many employees want internal career progression for reasons of stability and job security. Offering internal promotion paths can help reduce company turnover and reinforce a company culture that supports talent growth.
It also helps value the efforts of employees who are committed to their work and gives other employees the feeling that their efforts are recognized and can lead to real growth and change.
Finally, internal mobility can help the company grow by identifying and developing internal talent. By focusing on the skills and experiences needed in each area of the business, employers can help their employees develop their potential and innovation to contribute to the company's growth.
Invest in recruitment software to optimize internal mobility
The use of recruitment software and a candidate pool are effective ways to optimize internal mobility. hese solutions allow companies to manage multiple aspects of the recruitment process, implement an effective internal mobility program and retain top talent. As a result, companies can reap the benefits of internal mobility for their employees and for their business.
In Jobaffinity, for example, you can have a profile of all your employees in your candidate pool, with all the information you want: their skills, their experience, their CVs, any answers to questionnaires you may have deployed, their managers, the distance of their location from your different workplaces…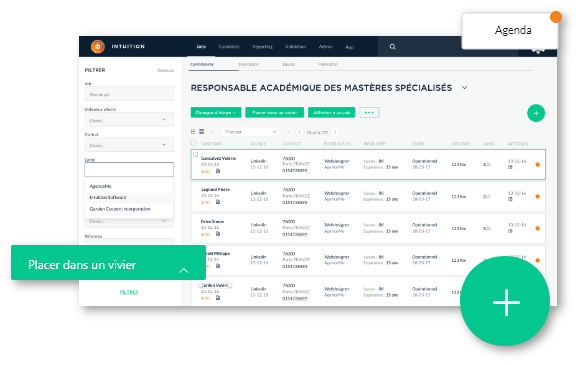 All this allows you to make cross-searches, statistics, and in a few clicks, make a request to a manager or a team leader to get his opinion, trigger emails or Whatsapp or SMS messages to exchange with the candidate, organize interviews…
You can also set up ads that will only be distributed internally, with the possibility for each employee to respond to them to declare his or her interest in a particular department, sector or position. It's like using a job board such as Indeed, but reserved for members of your company, with an automated follow-up.
Conclusion
The talent drain will not be solved only by a good internal mobility policy: it is also necessary to work on the employer brand, the quality of life at work and the remuneration in line with the sector and the work of your talents.
But if internal mobility is not the ultimate answer, it is already a huge step forward for employee retention, especially since it is very easy to implement with a good ATS like Jobaffinity, even if you are a large community or a large company or franchise with hundreds of brands, sites or offices across the country or the world.
Don't hesitate to ask for a demonstration of our recruitment software to learn how to implement an optimized internal mobility in your company!