Recruiting the best talent is a priority for any company committed to growth and success. However, with fierce competition in the recruitment market, it is crucial to adopt an effective strategy to attract qualified candidates. This is where creating an optimised careers page comes in.
We advise you to call on Paradisiak, a web service specialising in career page creation. But let's take a look at what makes a good career page.
What is a Careers page?
A careers page is a page, or rather a portal, on a company's website where its various job offers are brought together. It allows you to collect available opportunities and apply for them without going through a third-party service such as an ad site.
Understanding the importance of an optimised careers page
The careers page plays a central role in attracting qualified candidates; It's on this page that potential talents discover the opportunities offered by your company and assess whether they match their career aspirations. A well-designed careers page can make all the difference in attracting highly qualified and motivated candidates.
But having a visually appealing careers page isn't enough! It needs to be practical, easy to understand and with clear navigation. It is also essential to optimise it for search engines, to improve its online visibility and make it easier for candidates to find you. Search engine optimisation (SEO) plays a crucial role in this.
This means that when candidates are looking for job opportunities in your field of activity, your careers page will be more likely to be visible and generate qualified traffic.
If your page is well designed (UX for user experience and UI for user interface), it will be easier for them to decide to apply immediately and you will avoid losing potential candidates because navigating your page is less practical than the thousands of web pages offering job applications.
By taking care of your careers page, you can maximise your chances of attracting the best talent and getting qualified applications.
The key elements of an effective careers page: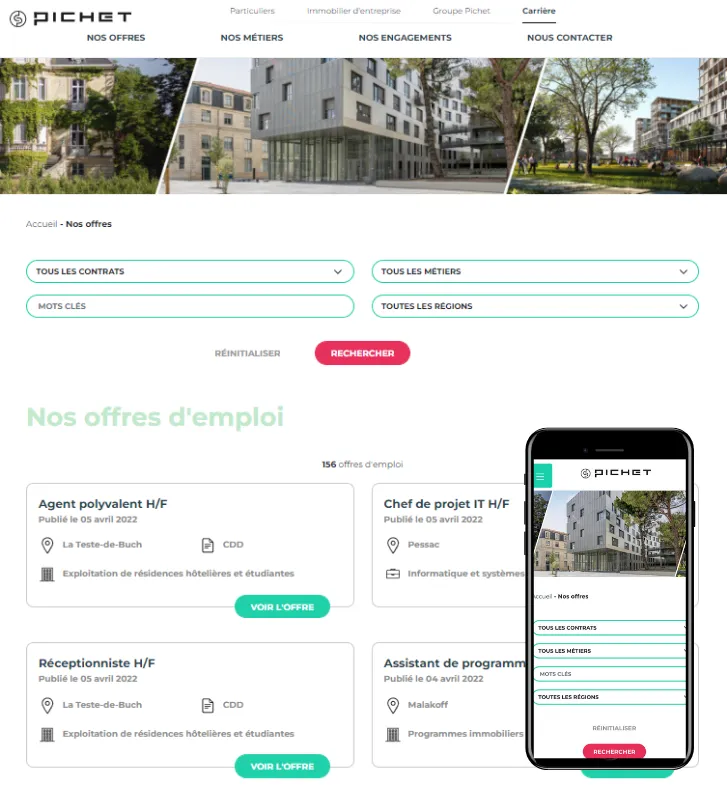 Catchy title and convincing job description:
To have an effective careers page, the job title and description play an essential role in attracting the attention of qualified candidates.
A clear, concise and catchy headline is essential to arouse the interest of potential candidates from the outset. It should reflect the position to be filled and give a clear idea of the responsibilities and opportunities offered. Avoid generic titles and use specific terms to target the talent you are looking for.
The job description must be convincing and engaging. Highlight the attractive aspects of the job, such as the challenges, learning opportunities, key responsibilities and benefits. Show candidates why this job is unique and how it can contribute to their professional development.
Don't hesitate to use punchy wording and action verbs to make the description more dynamic. For example, instead of simply listing tasks, focus on potential achievements and challenging projects to which the candidate could contribute.
Article à lire : Comment rédiger une offre d'emploi efficace ?
A simple and intuitive application process
The application process should be simple and efficient, so that potential candidates don't have to ask themselves any questions. Everything has to be crystal clear.
Set up filters and search fields to find adverts quickly
Keep fields as simple as possible and make sure they are easy to read
Don't ask for dozens of pieces of information, stick to the essentials: you're on sourcing
Don't ask candidates to summarise their CV or rewrite what they've already put in (if you're a Jobaffinity customer, you can take advantage of the resume parsing)
Make sure you don't set too low a limit on the size of files such as CVs (if you're not recruiting profiles that require computer skills, not being able to send a CV because it's 5.5MB will block a potential candidate).
A career page must be perfect on mobile
Mobile devices (smartphones) are increasingly replacing computers in everyday use, so make sure your page is absolutely mobile-friendly.
Jobseekers will be able to apply for jobs from their phones, on the move, while queuing, or when someone they know sends them an advert via WhatsApp or Messenger. We absolutely have to capitalise on this moment.
So put your trust in competent web designers who know how to think "mobile first", or call on Paradisiak.
Attractive visual presentation:
A clear, attractive and easy-to-navigate layout is essential to grab candidates' attention and make your careers page easier to read. Limit the amount of text. If you need to include a lot of information (e.g. how to apply, generic information about your company, etc.), do so at the bottom of the page, after the positions available.
Job descriptions need to be immediately visible without the need to rummage around. It's what your potential candidates are looking for, so it's what they need to find as quickly as possible.
Enhance your careers page with attractive visual elements. Include company videos that highlight the culture and working environment, images illustrating the company's activities and testimonials from satisfied employees. These visual elements add credibility to your careers page and allow candidates to see themselves working for your company.
Full, transparent information:
To convince top talent to apply, your careers page needs to provide complete and transparent information. Include details of the benefits offered by your company, such as insurance plans, professional development opportunities, flexible working hours, etc.
Clearly set out your company's culture, values and vision. Highlight opportunities for development and training to show candidates how they could develop within your organisation.
Be transparent about the job requirements, skills needed and expectations. This will help candidates determine whether they are qualified and whether they match your talent search.
By providing complete and transparent information, you'll build trust with candidates, which in turn will help the recruitment process run more smoothly and match talent more closely with your company.
Strategic use of keywords:
To improve the visibility of your careers page in search results, it is crucial to carry out relevant keyword research. These keywords must be related to the positions to be filled and the skills sought.
Integrate these keywords naturally and seamlessly into the content of your careers page. However, avoid keyword stuffing, as this could damage the reading experience for candidates and be penalised by the search engines.
Use keywords in the title, subtitles, paragraphs and bullets to optimise your careers page. Don't forget to use variations and synonyms of keywords for a more diversified approach.
Optimise conversion on the careers page:
Clear, eye-catching call to action (CTA):
An effective call to action (CTA) is essential to encourage candidates to apply and maximise conversions on your careers page. A well-designed CTA generates commitment and encourages candidates to take action.
To create a powerful CTA, use clear and specific action words such as "Apply now", "Join our team" or "Start your career with us". These expressions encourage candidates to take concrete action and submit their applications.
You can strengthen your CTA by highlighting your company's unique advantages. Highlight development opportunities, social benefits, company culture or any other attractive aspect to encourage candidates to take the plunge.
Make sure your CTA is clearly visible on the careers page, preferably at the top of the page or at the end of the job description. Use contrasting colours to make it more attractive (known as a highlight zone) and use a button rather than a simple text link to grab candidates' attention.
Integration of Jobaffinity recruitment software:
Jobaffinity offers a complete solution for managing job applications and simplifying the recruitment process; Integrating it into your careers page improves the candidate experience and makes it easier for your recruitment team to manage applications. This is done very simply if you use the services of our partner Paradisiak, but our software can also be used to manage feeds on any website. All you have to do is put us in touch with the person who manages your site.
With Jobaffinity, candidates can apply directly from your careers page by filling in an online form. The information provided by candidates is automatically integrated into your personal database, which is always accessible online, enabling you to manage efficiently process applications and monitor the recruitment process.
The recruitment software Jobaffinity also offers advanced features such as CV management, CV library, candidate communication, skills assessment and much more. By integrating Jobaffinity into your careers page, you create a seamless and professional experience for candidates, reinforcing your image as an employer of choice.

Discover all the features of Jobaffinity recruitment software.
Integrating Jobaffinity into your careers page is simple and easy. You can customise the application form to meet your specific needs and ensure that all necessary information is collected when submitting applications.
Boost your recruitment and employer brand with a Paradiziak careers page
Creating a high-performance, optimised careers page is essential for attracting the best talent and optimise your recruitment. By putting the tips mentioned in this article into practice, you can improve the visibility of your careers page, arouse the interest of candidates and encourage them to apply.
Don't forget the importance of a clear, concise title, a convincing job description for your job postings and the strategic use of keywords to optimise your careers page. An attractive visual presentation and comprehensive information will make your company even more attractive to candidates.
By integrating Jobaffinity recruitment software, you can simplify and improve the application management process, providing a smooth and professional user experience.
Don't underestimate the power of your careers page to attract top talent! Invest time and effort in creating and optimising it, and you'll see the results in qualified applications and significant growth for your company.
Start now to create a career page that converts and take full advantage of Jobaffinity to optimise your recruitment; The best talent is waiting for you, so seize this opportunity and give your company the competitive edge it needs.
Ready to attract the best talent? Put these tips into practice and offer an exceptional experience to the candidates who visit your careers page. Good recruitment!