Social networks! We often talk about them to denounce their drawbacks (they would have a negative impact on our concentration, our memory, our social interactions…). What about their advantages? For a recruiter or a company, using social networks to find talent may be essential in 2021. Here are some explanations.
Recruiting on social networks : why ?

Depending on your recruitment needs, not all social networks will be relevant. In this article, we have chosen to focus on three non-professional social networks: TikTok, Instagram, and Snapchat.
Targeting digital natives (generation Y and Z)

As can be seen in this infographic by Digimind, the uses of social networks clearly evolve according to the age of the users. We can see that TikTok, Instagram and Snapchat are three social networks that are particularly popular with generation Z (people born between 1995 and 2010). If your company is looking to recruit young graduates, work experience students or interns, gaining visibility on these three social networks is a good approach.
For example, according to the infographic below, 80% of 15-24 year olds use Snapchat on a daily basis, and 69% of them use Instagram.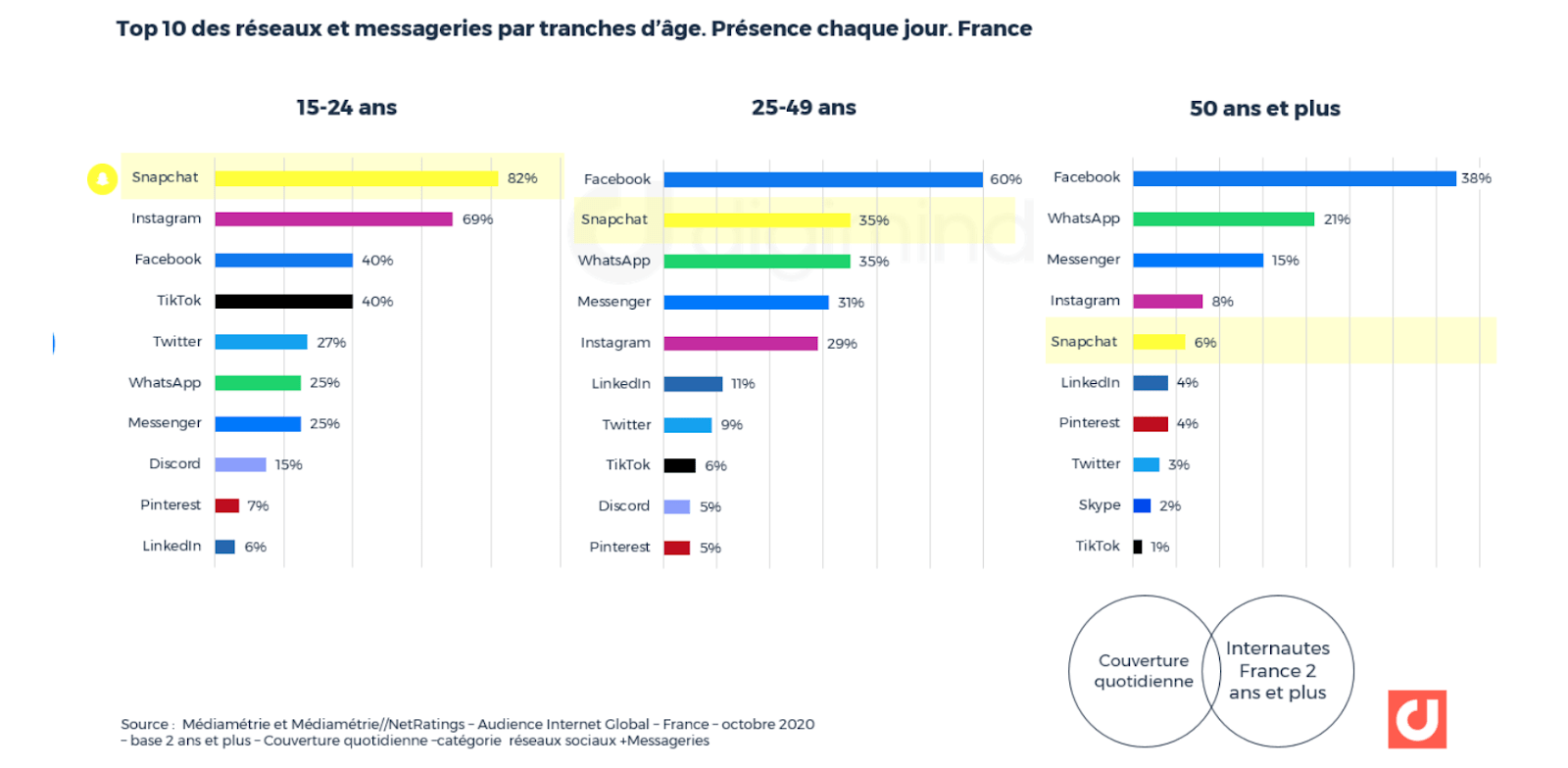 Getting close to candidates

Taking advantage of social networks to promote job offers has the merit of breaking the codes of recruitment! When you invest in a space initially dedicated to entertainment, you reduce the distance that can naturally be established between a recruiter and a candidate. Take advantage of these platforms to take an interest in the personality of candidates and their soft skills!
Take care of your employer brand

Would you like to rejuvenate your workforce or your image? When you take care of your digital communication and strengthen your presence on the most popular social networks, your company benefits from a modern image and therefore gains in attractiveness! Some social networks allow you to communicate about your company in a creative or offbeat way (see examples below).
Access a wider talent pool

By recruiting on social networks like Snapchat, Instagram or TikTok to recruit, you also benefit from a wider audience, which is not always present on LinkedIn. It is also an opportunity to connect with people who are not necessarily looking for a job.
Recruiting on different social networks: TikTok, Instagram, Snapchat

Let's not talk too much, let's talk about something concrete! Here are three examples of companies that have succeeded in turning certain social networks into real recruitment levers.
Recruiting on TikTok: the example of the SNCF
A quick reminder of how TikTok works
Specialising in short, viral content that can be swiped with a single gesture, TikTok allows you to create/save videos ranging from 15 to 60 seconds. Today, the application is growing rapidly. According to Médiamétrie figures, in October 2020, TikTok was the 9ᵉ most visited social network in France each month (11 million monthly unique visitors) and the 6ᵉ most visited in France daily (5.5 million daily unique visitors).
Last November, the SNCF launched its first ever video recruitment campaign… on TikTok! Its aim: to attract young talent and demystify its various professions. To maximise the visibility of this unique recruitment campaign, the company has teamed up with seven influential Tiktokers. The SNCF has given each of them the task of presenting an SNCF job in a simple and offbeat way. This was an opportunity to unveil the jobs of electrician, mechanic, station agent, train driver, rail traffic controller, rail safety officer and SNCF engineer!
A successful operation for the SNCF, whose videos have accumulated 1.5 million views, 200,000 likes and 1,600 comments.
Recruiting on Instagram: Spotify and the employer brand

At the heart of Instagram's value proposition is the image. It's a great opportunity for a company to tell a story, build its employer brand and take future recruits behind the scenes… and showcase its team spirit, like Spotify!
Through its LifeatSpotify account (dedicated to its employer brand), the streaming leader excels in the art of storytelling. With the "Team of the month" posts to celebrate/showcase a team, "Life at Spotify" podcast episodes to follow employees' testimonials… In a few clicks, you can discover the daily life of many employees. Spotify also uses this space to take a strong stand and defend its convictions. For example, in this publication, the brand is committed to full remote working.
Recruiting on Snapchat: the example of Michel et Augustin
A quick reminder of how Snapchat works
Specialised in sending ephemeral messages, the platform also allows you to publish "stories" (short videos that constitute a "story"). These last only 24 hours, like the stories on Instagram. However, these stories are only available to your followers (unless you use a geolocation filter), unlike Instagram stories, which are visible to everyone as long as the company's profile is public!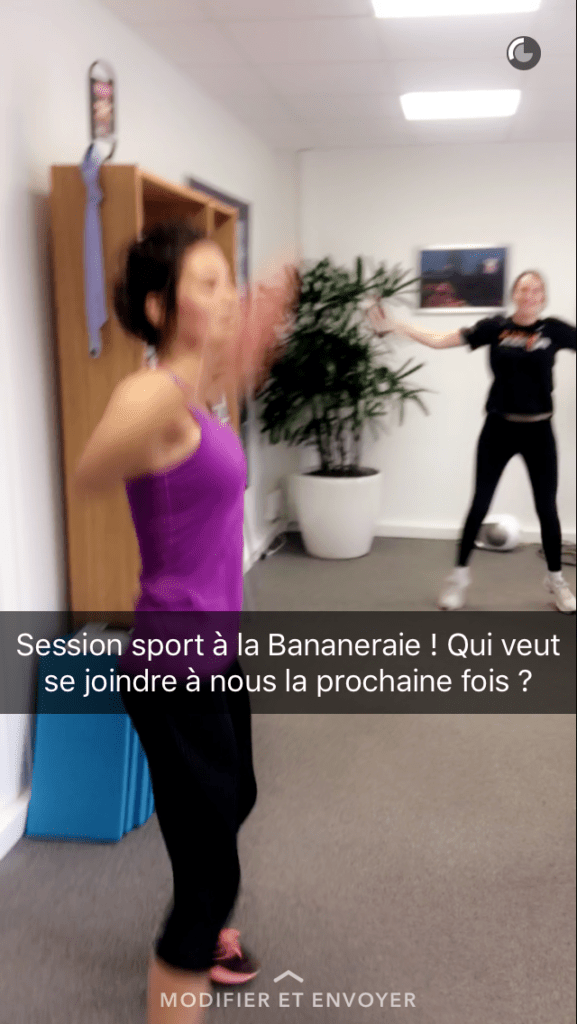 Michel et Augustin has a way of making a mark! In a previous article, we told you about their famous recruitment campaign in the metro! And in the field of digital communication, the troublemakers of taste do not fail. The brand, which boasted in this article of having thousands of subscribers and a high level of engagement, uses Snapchat to take its community behind the scenes. In the form of "live my life" stories, the company reveals its office life. Typical days, internal events, employee testimonials… Snapchat serves as a real showcase for the brand! A transparent and clever approach, since this unusual content allows candidates to project themselves within the company.
Recruiting on social networks in brief

If recruitment in 2021 is essentially digital, it cannot be improvised! Remember to adapt to the codes of each social network if you want your efforts to bear fruit. Indeed, each social network has very specific audience typologies. You don't express yourself on TikTok the same way you do on Instagram! To avoid flops, make sure your message is clear!
Like Spotify or Michel et Augustin, take advantage of these spaces to show the other side of your company. Doing "employee portraits", communicating about their typical day, taking a virtual tour of the offices or highlighting your internal events are all good practices that will allow your candidates to project themselves into your company.
Finally, keep in mind the famous hashtag "#wewantthereal" which is all the rage on Instagram. Create authentic content that really reflects life in your company. The worst thing you can do is sublimate reality or force your employees to testify on your behalf.