In a previous article, we were interested in the subject of employer branding. To develop it in the long term, we recommended that you stay true to yourself, by highlighting (without embellishing) your values, your company culture, your mission… A real communication task that inevitably implies investing in a corporate career website. Explanations in this article.
What is a career page?

A career page is simply an Internet page hosted on a company's website and dedicated to its recruitments. On this career page, you will of course find the job offers proposed by the company, but also elements that allow you to define its identity and culture (mission, vision, team portraits, manifesto, genesis of the company, key figures…).
Corporate Career page VS corporate career website, what are the differences?

Their objective is the same, but there is a difference. A career page is attached to the company's website, whereas a career site is a separate site dedicated to recruitment. It is therefore a more elaborate version of the classic career page.
What is the role of a career website ?

Simply put, it's a way for you to tell your story. Halfway between marketing and human resources, the career page is a great opportunity to use storytelling. As such, it should be seen as a communication tool in its own right to develop your employer brand.
What is your company's raison d'être, its vision?
What are the common characteristics of your employees, their ambition?
And what are the values you carry, the vision of the world you defend?
💡 The more you take the time to communicate your values and ambitions, the more you will collect applications in line with your universe.
Obviously, the other major interest of a career page is to collect applications (spontaneous or not) on a continuous basis, and to regularly broadcast your current job offers.
What are the advantages of a corporate career website for your recruitment?

Taking the time to develop your career page has its share of advantages!
First of all, it's a simple and clever way to control your pitch and polish your image. Indeed, a career page is the ideal place to showcase your premises, share images (or videos) of your employees, your internal events… It is also an opportunity to highlight any employee testimonials, key indicators (such as the gender parity within your company, the average age of your employees…). In short, it's an important showcase that allows you to present yourself in the best light!
A well-optimized career page can be a powerful recruitment tool at a fraction of the cost. When it is well organized and regularly updated, a career page can provide candidates with all the information they need about the company, the available job offers, the profiles they are looking for…
It is a simple and effective way for candidates to evaluate for themselves their possible suitability for your company's world and culture. A career page is also a good opportunity to assert your personality and stand out from other companies.
It is likely that your social networks and job postings will redirect your potential candidates to your career page! In this case, the primary goal of this page should be to confirm these potential candidates' interest in your company.
💡 According to Glassdoor's 2019 Mission and Culture survey, 77% of adults in four countries (USA, UK, France and Germany) first learn about a company's culture before applying to it. They would even be 79% to ask about a company's mission and goals before sending their resume.
Some best practices to optimize your career site:

Optimizing your career page is therefore a good approach if you want to correctly highlight the assets and differentiating characteristics of your company.
Here are a few best practices to adopt in order to make the most of this HR communication medium:
Create a career page or site that looks like you and reflects your personality. Whether you are a large group, an association, a startup… Your career page must embody your employer brand.
A good example to follow: Michel & Augustin, the famous company that does not hesitate to propose an original and offbeat career page, reflecting its identity.
Give your employees a voice: their testimonials will allow candidates to see themselves at their side! Following the same logic, don't hesitate to add photos and/or videos of your teams.
The good example to follow: the SME Marie Morin, specialized in chocolate mousse. On its career page, you can discover the history of the company, its values, but also several portraits of employees, key figures of the company (average age of employees, people in apprenticeship, number of permanent contracts signed in 2020…). As a bonus, the navigation is fluid and the design is refined.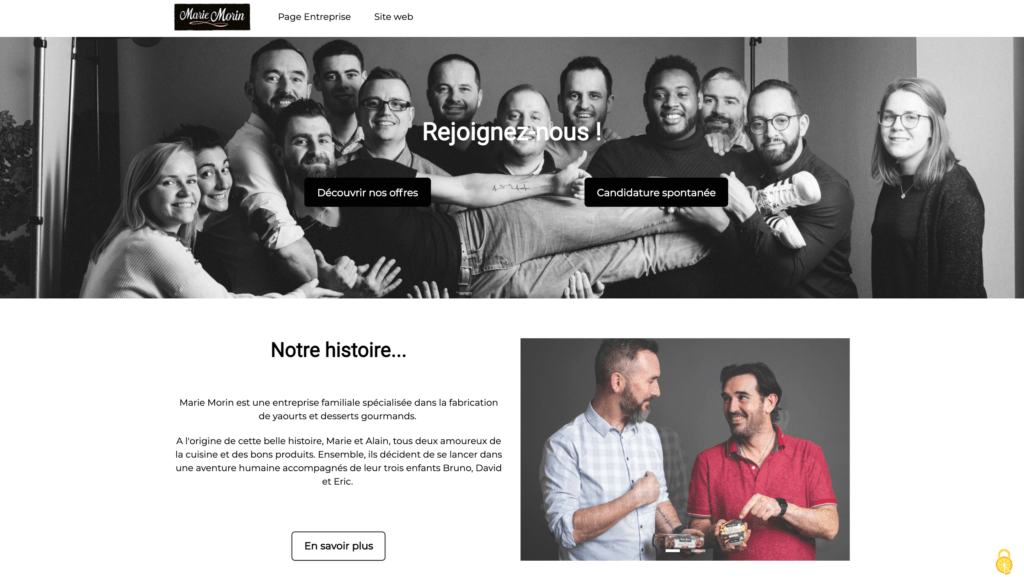 Use your career page to highlight your company's news. Fundraising, new hires, new product launches… Highlight positive information about you!
Take your candidates behind the scenes of your company, by sharing job descriptions, videos of your field teams…

A good example to follow: the SNCF corporate career site! It offers job descriptions, employee testimonials and even mini-reports on SNCF news.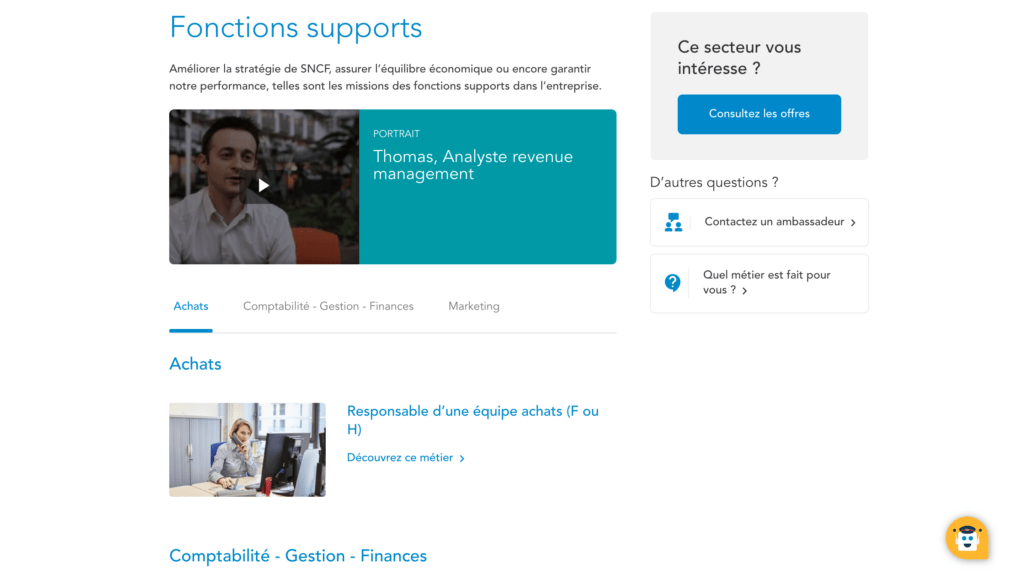 Create your career site with Intuition Software

Would you like to attract the best talent and boost your employer brand? Our teams are at your disposal to help you build the career page that suits you.
We offer customizable websites that you can adapt to your world. To learn more, please contact our consultants!